I don't remember this story. (That probably means something.) My mother told it to me a while ago, and I've been thinking about it recently.
One day, when I was little—preschool age, I think—I saw a photo or some video of myself. I looked for a minute, and then announced, delighted, "I'm
pretty!
"
"You are," my mother agreed. After that, I ran off to play. That was that.
The notion that I would see an image of myself, gleefully approve, and move on with my life feels like science fiction now. I don't often feel pretty. In fact,
pretty
, and the even higher-ranking
beautiful
, aren't words I feel I'm allowed to apply to myself. In
a 2009 interview with Huffington Post
, Margaret Cho sums up my semantic problem: "I always thought that people told you that you're beautiful, that this was a title that was bestowed upon you."
But—and here's the really weird part—on the rare occasion that I look in the mirror or at a photograph or at a piece of video and imagine that I'm looking at a stranger, I can get there: She's pretty.
* * *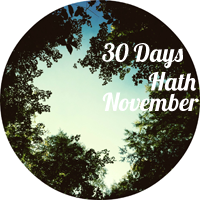 Day 17: My family.