I have a new car.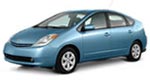 Like, a
new
new car. As in, the year on the car won't be here for another two months. I think I'm cheating the Universe somehow, because this is my first car. I learned to drive at the ripe old age of 21, and got my driver's license shortly after my 22nd birthday. Because I am both cowardly when it comes to trying new things, and generally kind of lazy, I almost never drive. And yet, somehow, this all adds up to my getting a new car.
(shrugs)
Unfortunately, it turns out that I am a terrible new (car) mother. Said car had not even been in my possession for two whole days when I managed to scratch up the passenger side doors while attempting to maneuver into an itty-bitty downtown Seattle parking garage space. Two days! Not even!
It seems I can't be trusted with new, expensive, even-more-expensive-to-repair things. And maybe it's the PMS talking, but I can just see myself doing something equally idiotic as a parent: dropping my newborn on his head certainly comes to mind. I know my car isn't sentient (at least, I'm pretty sure it isn't, but with all of its high-techness, who's to say?), but I think if it could speak, it might just say something about me shirking my duties as caretaker.
Today, I kind of feel like a bad mother. And not in the
Shaft
sense.
BiB
.....................................